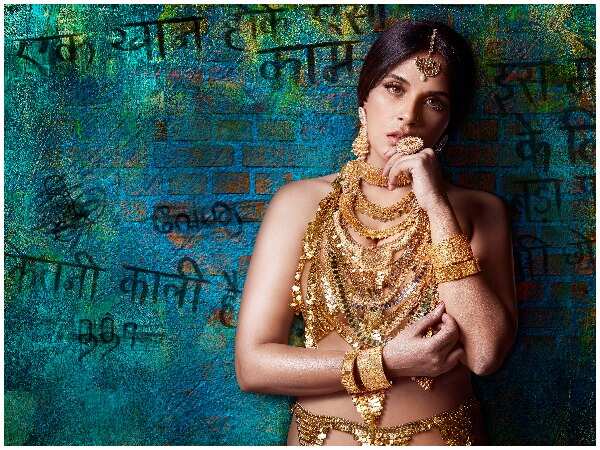 The producers of the most anticipated biopics of 2019 'Shakeela' – 'Not A Porn Star' released the first look poster of the movie that has Richa Chadha, who is playing the titular lead, covered in authentic gold jewellery. Richa looks sizzling and convincing as Shakeela Khan.
The biopic 'Shakeela' is based on the life and times of the Southern actress of the same name, who rose in popularity after the tragic death of Silk Smitha. In the poster, Richa Chadha stands defiant in spite of the insults that are scribbled on the wall behind her.
The director Indrajit Lankesh looks like does not want to 'whitewash' the truth in the life of Shakeela. In the poster, Shakeela (Richa) confidently looks into your eye. The biopic, produced by Magic Cinemas and Yoddhas Entertainment, is ready for release in the summer of 2019.
Shakeela was known primarily for her roles in adult films. Her success made her several enemies. She even caused ripples in the male-dominated industry of that era. An unlikely superstar, Shakeela's movies were translated into foreign languages like Russian and Chinese.